slotted pre-galvanized cable tray (UL and SGS)
Product Description
  SHANGHAI BESCA INTRODUCTION
A ).Besca:  
Shanghai Besca industrial co.LTD. Manufacturing has over sixty years experience making and designing quality Cable Tray and Cable Management systems right here in china. Our professional sales team works closely with each customer to provide quality solutions on time and within budget.
Along with over six decades of quality customer service, Besca is also involved in numerous organizations that further the betterment of cable tray production and installation.
Besca's commitment to the bettering of the cable tray and wire management industry is tribute to their long-standing reputation as one of the industry leaders in quality and customer service.
B). Besca Products Range:
1.Perforated Cable Tray Systems.
2. Cable Ladder systems.
3.Cable Trunking Systems.
4.GRP/FRP Cable Tray Systems.
5.Wire Mesh Cable Tray Systems.
6.Aluminum Cable Tray Systems.
7.Wire Way Systems.
8.Strut Channel Systems.
9.Busbar Systems.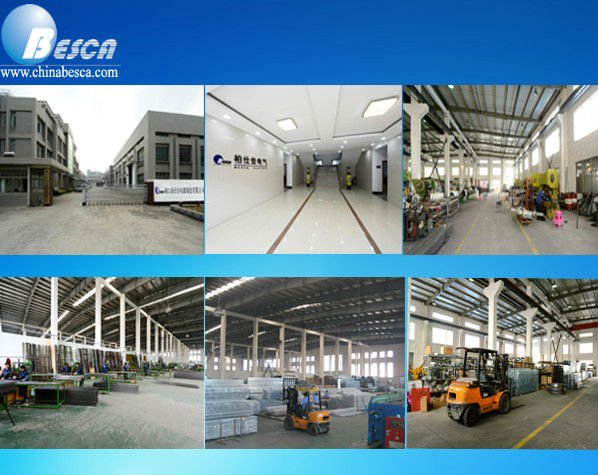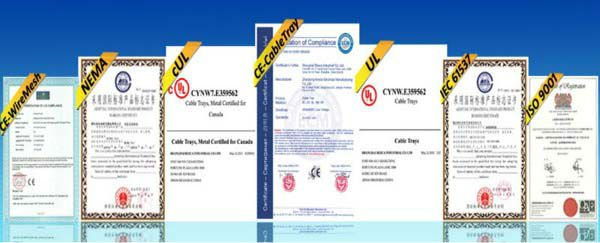 Besca Cable Tray Information
C).Besca Cable tray standard  specification
1.Moderate ventilation with added cable support frequency and with the bottom configuration providing cable support  every 4 inches. Perforated cable tray also suits metal and nonmetallic materials.
2.Standard widths of 6, 12, 18, 24, 30, 36 inches
3.Standard depths of 3, 4, 5, and 6 inches
4.Standard lengths of 10, 12, 20 and 24 feet
5.Fixed rung spacing of 4 inch on center
D)Besca Cable tray Dimensions:
Cable Tray weight dimensions are all internal.
♣ Depth of 50mm, 100mm &150mm
♣ Widths of 50mm, 100mm, 150mm, 200mm, 300mm, 400mm, 450mm, 500mm & 600mm.
♣ Length of 2997 fit max loading capacity in 40'ft containers.
♣ Wire Mesh Cable Trays are constructed with a 50mm x 100mm mesh configuration. Diameters of wires are 5.0mm.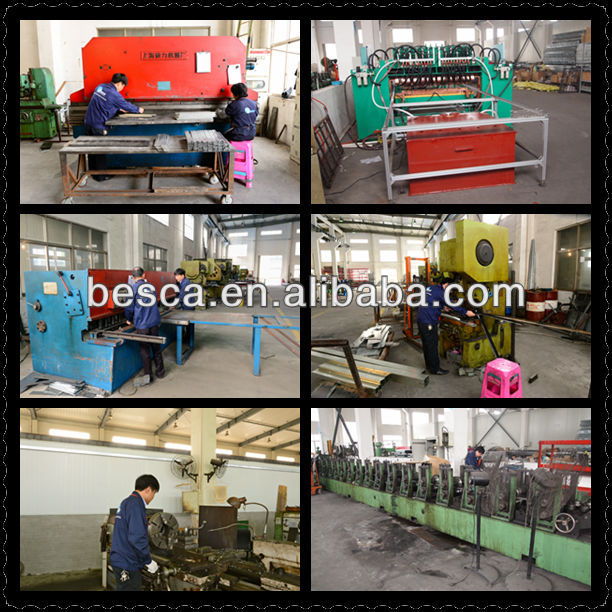 E).Besca Cable tray Application:
Perforated cable tray is generally used for moderate heat generating applications with short to intermediate support spans of 5 feet to 12 feet.
F).Besca Cable tray Adcantage:
Takes up to 25 percent less space than ladder 
 
♥ Has an installed cost of 40 to 60 percent less than conduit. 
♥  One-piece design provides rigidity. 
♥  Easy to design, modify or extend. 
♥ Available in galvanized or plain steel, aluminum or stainless steel. 
♥ Can be painted or coated with fusion bonded epoxy. 
♥ Can be custom cut to length. 
♥ Barriers can be installed to reduce field labor costs.
G). Besca Cable Tray Material

:
Q235 Steel (Chinese standard steel), SS304, SS316 & SS316L,FRP or GRP,Aluminium alloy
• Electro zinc plated- for indoor use to BS EN 12329-2000, 12microns thick.
• Powder coated- for indoor use to JG/T3045-1998, between 30 and 75 microns thick
• Hot Dipped Galvanized-for outdoor use to BS EN 1461-1999, between 60 and 80 microns thick
• Acid Washing or Electrolytic Polishing- for stainless cable basket tray use
H).Besca CableTray Surface Finish:
♦ Electro zinc plated – for indoor use to BS EN 12329-2000, 12microns thick.
♦ Hot Dipped Galvanized – for outdoor use to BS EN 1461-1999, between 60 and 80 microns thick
♦ Electrolytic Polishing – for stainless steel use
I). BESCA Cable Tray Standard Size:
| | | | |
| --- | --- | --- | --- |
| Part No. | Size(WXH) | Thickness | Length |
| LDT050TR | 50mmX12mm | 1.0mm | 3000mm |
| LDT075TR | 75mmX12mm | 1.0mm | 3000mm |
| LDT225TR | 225mmX12mm | 1.2mm | 3000mm |
| LDT300TR | 300mmX12mm | 1.2mm | 3000mm |
 Other specification available on request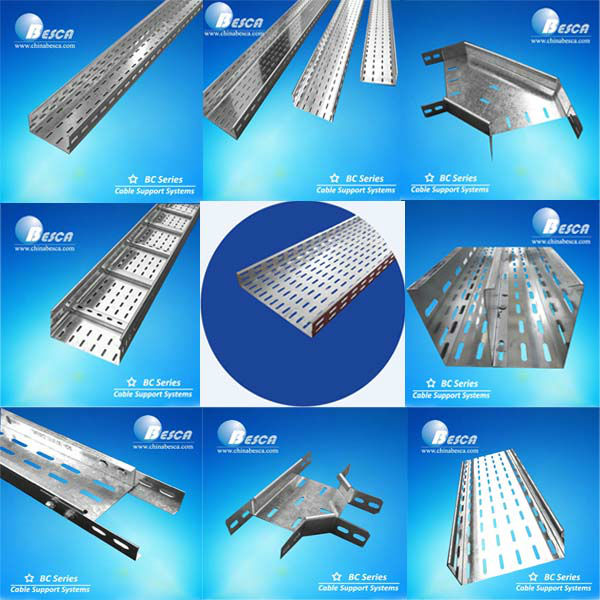 Product Categories : Perforated Cable Tray > BC2 Cable Tray (H=50)